Installing the bulkheads
Bulkheads #5 and #7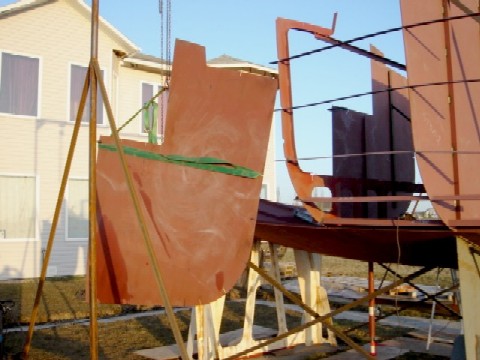 I had to put frame #4 on the bottom before installing bulkhead #5, so that I could still install the frame when the supporting diagonals are in place. Otherwise, the diagonals would interfere with the frame.
The same goes for the bulkhead #7 and the frame #6. I had to install the frame #6 prior to installing the bulkhead #7.
You can see the central bulkhead #5 and frame #6 have already been installed and the second half of the bulkhead #7 is being raised.
According to US costal guard regulations, these bulkheads separating an engine compartment and a cabin from the rest of the hull, must be waterproof. Many people doubt this necessity. If a boat gets flooded, then a single waterproof compartment does not likely save it and a crew.